Yesterday, marked a milestone moment in my 18 glorious years of life: it was my first Sunday spent at the magnificent University of Massachusetts Amherst.
Where am I gonna watch the Pats?
Do other people like to watch football 'till their eyes bleed?
Where the hell is my student I.D?
Questions needed to be answered.
I settled on the lounge on the first floor of my hall where I found several eyes locked in on a TV. I told the kids sitting next to me I would be spending the next 11 or so hours with my ass planted on the corner seat… (Hahaha! There's no way someone could actually do that!) 
And that's exactly what I did.
It was an amazing day with plenty to talk about so let's get right into it:
1pm:
After watching the Pats bully the Texans into submission CBS immediately started showing the end of the Browns vs. Steelers game only to stop broadcasting as it went to overtime. (I hadn't been so disappointed since the dining hall workers told me I couldn't keep coming in and clearing out the entire pan of spring rolls…Sad!)
Luckily a newfound friend in "Jets fan Jared" had NFL Season Ticket on his laptop so myself and about 20 others crowded around to watch one of the most heart pounding moments you will ever see.
One kick to give the city of Cleveland newfound hope.
One kick to get the monkey off of Hue Jackson's back.
One kick for free Bud Light!
Give it to the people Homer!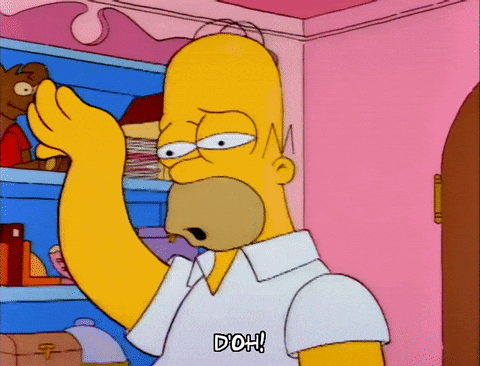 The winless streak continues but the losing streak ends? No idea whether the Browns/Suits (get it cause they tied; ha!) are on the hot seat or cool throne but one thing is for certain Big Ben is #done.
Yikes. I give it two weeks before the walking boot is back.
4pm
The only 4pm game on TV was the 16-8 barnburner with the Panthers edging out the Cowboys.  I was mostly on Twitter for this part of the day.
8pm
Anyone who didn't stay up to watch the primetime game missed an absolute doozy. Here's what we learned:
To be frank, I hadn't really watched a whole lot of Khalil Mack up until last night but if what I saw was any indicator, and I'm gonna be bold here….
Oakland made a bad trade.
I can't believe he just went there!
Who does this kid think he is?
Somewhere Jon Gruden weeps while watching spider 2Y banana on repeat.
Seriously guys stop saying Aaron Rodgers faked his injury. Do you really think it's funny to come at one of the best quarterbacks in the game? Because it's not and I won't take it any more!!!!!!!!!
Lol, jk Rodgers faked it. (Congrats on the win tho)
Final thoughts:
Overall, it was one hell of a Sunday and I got to witness the firsthand death of the singular Bears fan at Amherst. Thank god for making me a Pats fan! Have a great week.
NNNN
P.S- UMass lost to Georgia Southern 34-13. 1-2 is the most dangerous record in sports so please do not not @me.