You either love 'em, hate 'em, or have no better way to spend 4 hours of your Sunday night.
The Oscars.
Let me start off by saying I understand the hate. People call it a pat on the back for the industry (spoiler alert; it is). People say it drags on for hours (it does). And year in and year out there are horrible wins and snubs that make it abundantly clear why those who really love movies (and know only some deserve to be called films- sorry 'The Rock') can find the whole thing to be a total sham.
Last night's events perfectly summed up the Oscars experience.
The people who don't really care got to watch Bradley Cooper and Lady Gaga become a high note away from making Irina Shayk a whole lot of money. Which for the record, I'm not making fun of because that performance was absolutely incredible:
It sent the Twittersphere into a frenzy and divorce lawyers scurrying to their phones! But while I can't overstate enough how entertaining it was:
It wasn't the most historic moment of the night by far.
I'm not going to go into the politics of Lee's speech but rather want to focus on what a historic moment this was for a filmmaker who started from the bottom rung and didn't let anyone dictate what he was going to do. It is criminal that this was Lee's first Oscar win and to see the utter jubilation as his name was called gave me chills. Also take note of how happy Samuel L. Jackson was to see his friend of  3 decades finally get what he deserved: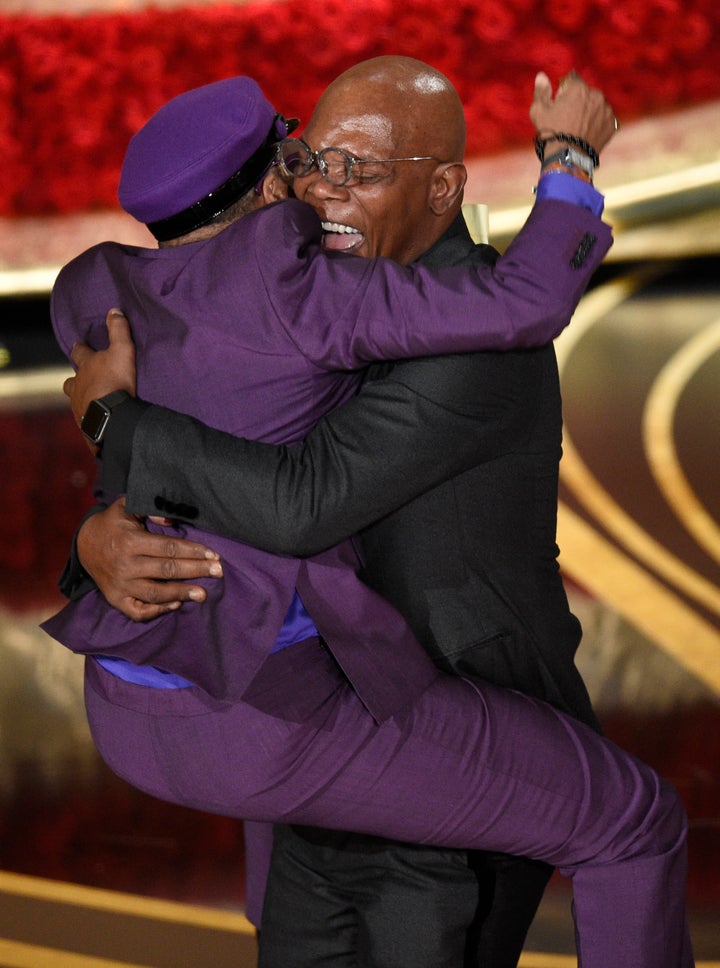 That's the kind of stuff that makes me love the Oscars. A guy who built his career from scratch gets to enjoy his moment on the big stage. If you can't respect that; you're a loser.
So how do you get to enjoy Oscars moments like these without all the bullshit?
Simple; don't watch it.
There is a little something called the internet and trust me there are millions who will do the heavy lifting for you and you just get to reap the benefits. It's perfect. As the winners are announced you get to see it (at most) 3.25 seconds after.
"bUt ThEn ItS nOt LiVe!!!"
Trust me; it'll be live to you!
Whatever you choose to do next year for the Oscars, sleep well at night knowing I don't care. I only ask that you don't let your day be ruined by the fact that a movie (granted I didn't watch it) with a scene like this in it won an Oscar for Best Editing:
NNNN